25-year-old mother Shaquia Philpot drove her vehicle with her 10-month-old twin boys into a lake in Augusta Georgia, killing all three – as indicated by police.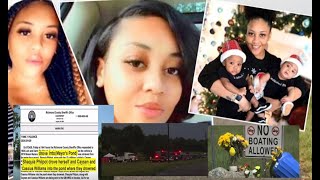 Shaquia Philpot was on Facebook, Instagram, and Twitter and amassed thousands of fans. She even had sponsorships and paid promotions on her pages.
According to police reports, the bodies were found after a fisherman recognized that a vehicle was in the Mayor's Pond in Augusta, that evening.
What happened to make a Successful and excellent mother kill her kids & commit suicide? Well, it's not clear.
But Shaquia's relatives told authorities that the family lived in Hephzibah but investigators did not disclose how the vehicle ended up in the pond. Their autopsies will be conducted by the Georgia Bureau of Investigation to determine an official cause of death.
The deprived mother and grandma of the deceased, Myrtis Wright Bennett, confirmed their death on Facebook.