Lisa Hyper is reportedly pregnant and she has also issued an apology on Vybz Kartel's behalf for all those whom he has done wrong.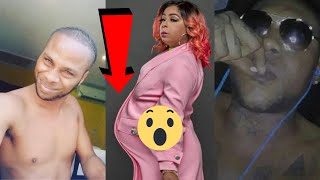 Some fans are not yet sold on the idea of pregnancy and have instead labeled the protruding bulge as a side effect of poor eating habits and possibly a medical condition such as fibroids. Others were quick to point out recent shots of Lisa Hyper holding a cup,
which some have presumed to have been filled with alcoholic beverages. In light of this, many have claimed that the deejay would not be drinking if she was aware of her pregnancy. However, if one is to take Foota Hype's track record for breaking stories into question, we could be sending congratulations Hyper's way in the coming months.
Naturally, questions surrounding who the father to be is, have quickly caught wind. As pointed out by Foota, who now being dubbed at the Jamaican Maury, there are 3 possible "candidates" for the position, all of whom are prominent entertainers themselves.