The community of Bower banks located on Windward Road Kingston 2 is now in Grieve over the killing of a lady who showed gratitude on Donna Gowe's Program (Aunty Donna).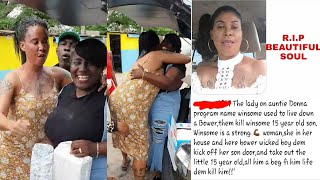 Kayan Bogle was killed 2 days ago in the community of Bower Banks by a HUNGRY UNSCRUPULOUS PIECE OF SHIT NO GOOD FOR NOTHING DOG, for showing Gratitude to Aunty Donna for helping a friend of her's who's 15-year-old son was also killed 2 years ago by those PIECE OF DOG SHITS.
The same set of criminals in the community of bower banks also killed Kayan Bogle's cousin 2 months ago for also showing gratitude on aunty donna's program.