Shenseea son "Rajeiro Lee" celebrated his birthday with his mother and families yesterday. the five year old boy got lots of gifts and surprises for his 5th birthday.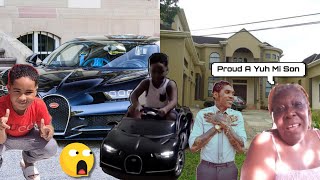 His wish came through when Romeich entertainment surprised him with a Bugatti toy car for his birthday.
Shenseea bought her son a drum set and wished him a happy birthday on Instagram.
"Happiest of birthday to my biggest and best blessing of all time, my son. I love you more than anything and anyone else in this world, my Scorpio king. I will forever be here for you, you've changed me for the better, pushed me past my limit, gave me strength, patience, confidence, motivation and taught me how to really love. I remember when I gave birth I couldn't sleep for the whole night because I was just up staring at you. I love you papa, you growing up so fast, she said."
He received countless gifts from his family and friends and his favorite birthday gift is the Bugatti toy car.