Yesterday at about 11:24 pm a friend of famous dancehall artist Tommy Lee Sparta went live on Instagram and it was no normal Instagram live.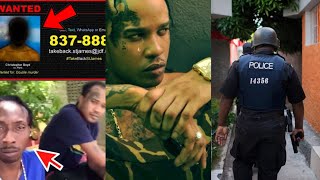 Even though the viewers could see nothing on the live but they could have heard voices in the background which sound to be a terrified person begging for his life.
It is alleged that a friend of dancehall artist Tommy Lee Sparta was at his home when members of the Jamaica Constabulary Force (JCF) went there to kill him because it is said that he has been wanted in the parish of St James for Double murder and was on the run for some time now.
Venom Sawse hasn't got the full story as yet but that is all we know for now and as you read it is alleged we are not sure if this story is true or not and we don't know if the Instagram live was fiction or nonfiction.
But from listening to the Live we have come to our own conclusion that consist of some factors, like it, couldn't be a publicity stunt because the person who went live is not in any form of the entertainment field and only has a small number of followers on Instagram  & also the many voices in the background sounds frightened and scared also,
A male voice could be heard begging for his life and a female is saying please don't put him inside the room while another voice is saying go inside the room, but as is said this is just our conclusion what is yours leave it in the comment section below.