MORE than 20,000 school girls have fallen pregnant during the Covid-19-imposed lockdown in Africa, from March to November.
The Ministry of Education, Arts and Culture confirmed that a total of 20,608 girls were impregnated during this period.
Most of these girls did not return when schools reopened in September, because of fear and stigma, this abruptly cutting their schoolyear short.
The pregnancy rate, however, could be much higher, as some girls dropped out of school without informing their schools' authorities of the reason for it.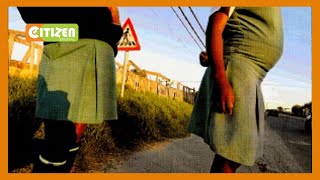 Executive director of education, arts and culture Sanet Steenkamp says the figures are shocking.
"It is very upsetting to me as an accounting officer. More than 22,000 families have been shattered, and more than 20,000 school-going girls have been damaged, and their education is likely to be cut short by the men who impregnate them," she says.
"Some of these girls may never return to school due to stigma."
Steenkamp says despite ministry efforts to prevent teenage pregnancies among pupils, the latest statistics, which include cases where schoolgirls have been impregnated by close family members, is an issue of national concern.
'BAD CHOICES'
"People continue to blame the education ministry when such high figures are reported, even though the ministry has made several interventions to prevent teenage pregnancies. We have programmes at schools to assist these pupils," she says.
Steenkamp says pupils have been advised against "bad choices" and contraceptives have been made available at local clinics among others.
She says the ministry also engages with parents and pupils on comprehensive sexuality programmes, which include boys.
"We need to stop blaming the ministry and ask ourselves where the men are who impregnate these girls. Who are these men?" she asks.
Steenkamp says men need to be held accountable for their actions.
She says it is also high time that pupils take charge of their own lives and avoid falling prey to adult men.
The ministry has recorded that a total of 25 235 pupils across the country have not returned to school and could not be traced.
A further 13 394 pupils are being homeschooled, but are marked as in attendance on school registers.
"In 2021 we will try to sharpen and strictly enforce our school programmes. We've had several conferences when we received these figures and we have set some interventions, however, we need to do more next year.
"We have over time pleaded with parents to return their children back to schools when the lockdown was lifted, and we have also put interventions and measurements in place at all schools with regards to the Covid-19 pandemic to ensure their lives are protected," she says.
Steenkamp encourages pupils who have dropped out of school to return and complete their education, saying schools are ready to receive them without question.
"I am begging them to return to school. We need them to complete their education. Parents should avoid keeping children at cattle posts or at home. They should allow children to go to school and complete their education. I am also urging the wider community to report any parent who bars their children from going to school."